There seems to be a bit of derision amongst the perfume critic set regarding Stella.  It's as if there was some expectation, as she is an innovative fashion designer, that the fragrance would be as well.  I fell victim to this with Lady Gaga's Fame.  WE WERE PROMISED BLOOD!  I really thought Fame was going to be some sort of reworking of Secretions Magnifique but wearable.  No dice.  It was a shitty fruity floral with a disappearing ink gimick juice.  I was heartbroken.  In a seemingly dismal era of mainstream perfume, even the woman who wore a meat dress wouldn't take a risk.  But then again, maybe THAT'S the joke.  Fame is an illusion.  Don't set your heart on it.
Whatever.  I'm still miffed.
So I empathize.  Sort of.  The thing is, unlike Fame, Stella isn't bad.  In fact, I have a lot of affection for it.  Perfume critic, Katie Puckrik, called it a "beginner's rose." And I second that emotion.  For me, it's a jeans and t-shirt rose, but like AG jeans and a high-end tee.  We can't wear a ballgown every day, right?  (I mean, I'd like to try, but there's the train to think about.)  I also feel it would layer well (Throw a cashmere sweater on that jeans and tee with some vanilla, maybe add a chic blazer with some incense?  You get the idea.)  Additionally, while the perfume critics seem incapable of getting excited about Stella (fair), she appears on both Bois de Jasmin's and the Perfume Posse's lists of great rose perfumes.  Part of this cliquey behavior (Raise your hand if you've been personally victimized by Regina George), comes from the fact that while Stella may not be particularly exciting, we live in an age of perfumery where a true rose, as simple as she might be, is notable. Stella reminds us that deep down, as much as it curls our toes, sometimes we just want to feel pretty. What I mean to say is, on Wednesdays, Stella wears pink.
Maybe THAT explains the salty note.  Stella is actually Gretchen Weiners.
So what is Stella actually?  Peony for starters, then rose, then a salty ambery musk.  The drydown is a bit abrupt.  Last night, I tried it on at Sephora.  Reapplied it a couple hours later still enjoying the slightly jammy rose.  A couple hours after that I slipped into bed, took one last sniff and said, "WHOAH!  Where's the rose?" (The rose can't go out.  *cough cough* It's sick.) Totally ghosted. But I'm still fine with it. (Boo, you whore.)  It may seem I'm determined to like this perfume against all odds, but that's not the case at all.  I find it immediately likeable.
Here's the thing.  One of my favorite perfumes of all time is YSL Paris.  A gigantic jammy rose violet monstrosity that is basically bliss in a bottle for me.  I am aware, however, that it enters a room before I do and as I've been raised to be polite, I don't wear it very often.  Stella, for me, is Paris Lite.  VERY Lite, yes.  But sometimes, you just don't want to think.  That's why we order pizza.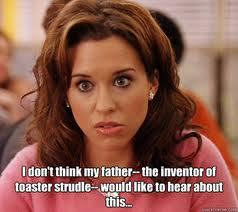 I feel that Stella has the potential to be a gateway drug of sorts.  It's easy to write off a tea rose as old-fashioned.  Stella gives you a rose with a modern sensibility.  The kind of rose that might make a girl think, "Hmmmm.  Maybe I don't hate rose after all."  As I mentioned before, I could see it layering well with vanilla.  I'd like to try a foodier vanilla for a twist on the Tocade idea (which is a more floral vanilla combined with rose.) Ultimately, Stella makes me want to play. And for $22 bucks for an EdP roller ball at Sephora?  I can afford to.  Alone, she is a bit buttoned up, sure.  But I feel she would come out of her shell given the right encouragement. OR, as I suspect Stella is an introvert, she may do better supporting someone else in the spotlight. That is to say, if you have a Regina George perfume that you feel might enjoy a little rose from time to time, Stella might be the perfect addition.  OR, and I love this idea, imagine adding it to a well made but simple masculine.  Don Draper becomes Beau Brummell.
Perfume Challenge:  Regina George and Cady Heron perfumes. To be discussed at a later date.
And Don Draper.
Anyway…
I think the general "meh" of Stella comes from what could have been.  All these years later, better to focus on what is.  The Guide asserts that Stella is "not obviously perfume."  Okay.  Maybe it's an idea.  But I like the idea.  So fetch.
3 Stars